DO YOUR BEST, BE YOUR BEST, AND GIVE YOUR BEST!
COME INTO THE STUDIO AND SIGN UP TODAY!
We teach, at Omega Martial Arts, a hybrid of Taekwondo, Hapkido, Self Defense, Judo, Jiu Jitsu, Okinawan Weaponry for a well-rounded martial artist. All of our Omega Youth, Adult and Family Programs are designed to help develop focus, teamwork, discipline, fitness memory, coordination, control and balance. Students will progress through a designed curriculum and belt system appropriate for their age group. Our Omega journey is exciting and challenging and, with enough hard work, will lead to Black Belt and beyond!
KID KICKERS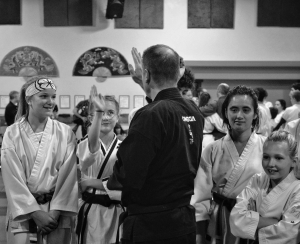 This class is for children age 4 to 7. It teaches the regular Omega system in a broken down format to help children grasp the basics of martial arts in a simple but fun way. Instructors focus heavily on helping children to understand the skills of self-control, focus, discipline, and determination. Each child will learn TaeKwonDo style kicks, katas, and self-defense principles.
The program is split into beginning and advanced groups, both meeting on Tuesday and Thursday one right after the other.
REGULAR PROGRAM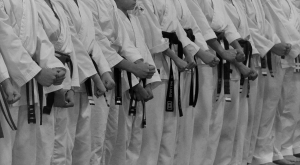 This class is for everyone 8 and older. Adults are welcome! Each student is split into classes by rank and meets twice a week to focus on individual rank instruction. If a student is not able to attend one of their weekly meetings, or they are paying for the Unlimited program, they may attend the Saturday Class.
Sparring Classes are available every Monday and Wednesday and each student may choose one sparring class to attend per week on top of their weekly rank classes.
INTRO PROGRAM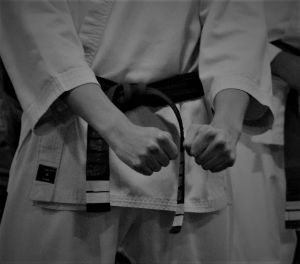 Not sure you want to sign up? The intro program provides 3 classes and uniform for a killer price of $55 and no commitment. This is available for both kid kickers and those in the regular program. Come in to try it out!
INTRO SPECIAL
Only $55 for 3 Classes & FREE Uniform!
No Obligation to sign up!
Perfect way to try martial arts and see if you love it!
MONDAY

TUESDAY

WEDNESDAY

THURSDAY

FRIDAY

SATURDAY

4:30-5:30 PM – High Belt Class (Green – Red/White Belts)

5:30-6:15 PM – High Belt Sparring Class (Green – Red/White Belts)

6:15-7:00 PM – Black Belt Test Preparation Class

7:00-8:15 PM – Black Belt Class (Red/Black and Black Belts)

4:00-4:45 PM – Beginning Kid Kickers Class

4:45-5:30 PM – Advanced Kid Kickers Class

5:30-6:00 PM – Open Floor for Testings and Stripes

6:00-7:00 PM – Low Belt Class (White – Yellow/Black Belts)

7:00-7:30 PM – Weapons Class (Yellow – Red/White Belts)

7:30-8:30 PM – High Belt Class (Green – Red/White Belts)

4:30-5:30 PM – Low Belt Class (White – Yellow/Black Belts)

5:30-6:15 PM – Low Belt Sparring Class (White – Yellow/Black Belts)

6:15-7:15 PM – Black Belt/Leadership Class

4:00-4:45 PM – Beginning Kid Kickers Class

4:45-5:30 PM – Advanced Kid Kickers Class

5:30-6:00 PM – Open Floor for Testings and Stripes

6:00-7:00 PM – Low Belt Class (White – Yellow/Black Belts)

7:00-7:30 PM – Weapons Class (Yellow – Red/White Belts)

7:30-8:30 PM – High Belt Class (Green – Red/White Belts)

No Class
No Class
IMPORTANT DATES:
Saturday, February 11th: Rank Advancement Test at the Salem Studio